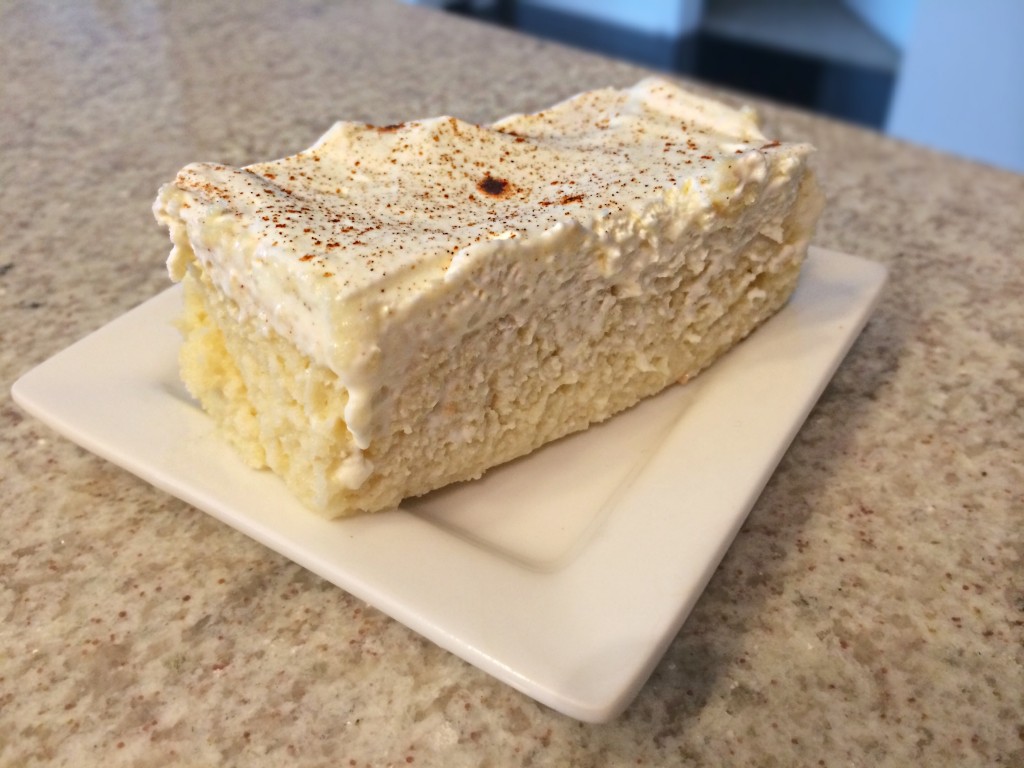 I am self admittedly not a very good baker. I don't claim to be, nor do I  pretend to be.
However, yesterday, I totally disguised myself as one!
Let me start from the beginning. My new friend, Jessica,  invited me over for a Full Moon, Mexican Themed, Pot Luck Dinner Party (it was an incredible combo). I really wanted to impress her and her friends and I felt like I had a lot on the line.  Jessica is the founder of one of the most successful blogs in the city, Cheeky Chicago, and her friends are some of the most incredible, spiritual and successful girls you could ever want to meet. I really wanted to bring them a special dessert that could serve as the "ice breaker" for our conversations and ultimately impress them!
Since a good Tres Leches cake is usually a universal crowd pleaser, I figured I'd give it a shot. If you haven't heard of this dessert, it's basically a delicious yellow cake covered in three different kinds of milk.
While the cake ended up tasting incredible, I had some behind the scenes difficulty in making it! The recipe I followed didn't yield me enough batter, so the ends of the cake were really thin and crispy (I've adjusted the recipe so you won't have that problem). Instead of giving up and trashing the entire cake, I took a minute and thought of a way to save it! I ended up cutting out the square center of the cake, put it into a smaller pan and continued on with the recipe. Although a little smaller than I intended it to be, the Tres Leches turned out perfect!
What You'll Need
For the Cake:
2 cups of all-purpose flour
1  teaspoon baking powder
2/3 cup unsalted butter, room temperature
1 and 1/3 cups white sugar
7 eggs
1 teaspoon vanilla extract

For the Milk Soaker:
2.5 cups whole milk
14 oz can of sweetened condensed milk
12 oz can of evaporated milk
For the Frosting:
2 cups of heavy whipping cream
1 cup white sugar
1 teaspoon vanilla extract
A pinch of cinnamon
What You'll Do
1) Preheat the oven to 350 degrees. Sift the flour and baking powder into a medium bowl, set aside. If you don't know what sifting is, it's basically putting the ingredients through a tiny mesh strainer to get out any of the lumps and clumps.
2) In a large bowl, cream the butter and the sugar (basically beat the butter with a mixer on low and start adding the sugar gradually until its incorporated and fluffy).
3) Once the creamed butter is fluffy, add the vanilla extract and eggs (one at a time) and beat with a hand mixer.
4) When the eggs are all combined, slowly add the flour mixture a couple of tablespoons at a time and beat it all together. When it's all mixed together, pour it into a 13×9, greased, baking pan. The batter may be thick, that is okay!

5) Bake for 30 minutes. When the cake comes out, let it cool for a few minutes and then poke holes all over the top of it with a fork.
6) Combine your three milks and then pour it over the cake a little at a time until it's all completely absorbed. Place it in the refrigerator for 2 hours.
7) After two hours, you are ready to frost! Simply beat the heavy cream with the sugar on high until thick and spreadable (takes about 3 minutes). Spread it on the cake and top with cinnamon! Store in the fridge for up to 3 days.
The moral of this kitchen story is, cooking/baking (and life to some extent) is all about improvisation! I truly believe that if you make a mistake, all you need to do is stop, take a minute to breathe and you will find a solution that ends up better than what was originally planned.
Love always,
Erica