Simply put, I only write about "blog worthy" restaurants. As a result, it's been a while since I've done a restaurant review because I really haven't had any truly standout meals lately.
My restaurant review hiatus came to end last week when I discovered a new, healthy, fast casual restaurant. Enter, Doc B's Fresh Kitchen.
This Gold Coast gem was established to become an extension of your own kitchen (meaning you know the dishes you're eating use sustainable ingredients that aren't over processed). The restaurant has a history of partnering with local and trustworthy farmers helping them to create an insanely delicious and healthy dining experience.
Trust me when I tell you, this menu is absolutely out of this world. The creativity that goes behind their dishes is something you won't see at any other fast casual restaurant. From innovative salads to their "mindblowingly" delicious pizza, sandwiches, burgers and "Wok out Bowls", you are sure to have a hard time deciding what to order. But, that's why I'm here!
Instead of spending hours drooling over their extensive menu (although I do recommend you check it out because it's amazing) and having an internal argument with yourself about what you should order , I'm going to tell you the 5 things you need to try when you go over there.
1) The Tangled Noodle Salad: The instant I saw this on the menu, I knew this place was going to become one of my favorites. If you're an avid reader, you know I have an obsession with the Thai Noodle Salad from Hillstone and recently created a "Copy Cat Recipe" on my blog since I can't get it out here in Chicago. Well, I won't need to make it anymore, because Doc B's is very similar and every bit as good (if not a little better). This version has all my favorites like with sweet mango, crunchy cashews and creamy avocado.
If you like thai flavors and perfectly cooked steak (you can get it with tofu too), than this is a must order.
2) The Number Six: Okay so this may not be the healthiest item on the menu, but when you take one bite of it, nothing else matters. This crispy chicken sandwich is topped with delicious pickles, a tangy habanero-honey BBQ with a roasted garlic dressing. I recommend splitting it with a friend and grabbing a side salad to round out the meal.
Normally I have photos of all the food I eat. This sandwich was so delicious that I literally ate it so fast I forgot about the photo. Sorry!
3) Spicy Prosciutto Pizza: Really, with the dough Doc B's uses, you could order any one of their pizzas and be happy. I love this one in particular because, let's face it, I'm a sucker for anything with prosciutto on it. I think it goes so well with the fresh mozzarella and sweet & spicy tomato sauce.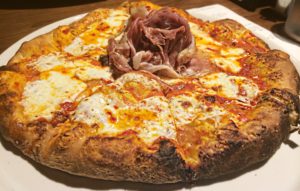 4) The Wedge Salad: This wedge salad is Doc B's best kept secret!  The dish was recently taken off the menu, but you can still order it any time (just ask for it by name). This salad is unbelievable and topped with a farm fresh egg, danish blue cheese & tomato with their signature roasted garlic dressing. Yum!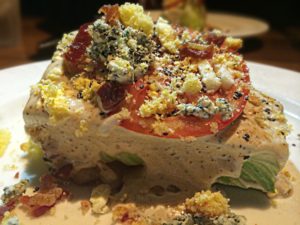 5) Gelato Cookie Sandwich: I mean, the name says it all, right? Make sure you finish off your meal with this. I don't care what kind you order, they are all fantastic. My favorite is the chocolate chip cookie with mint gelato.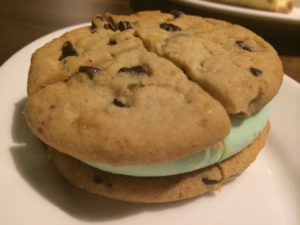 Not only is the food awesome, but I was totally blown away by the service too. If you go at dinner time, you can actually "dine in". My waiter, Mark, had extensive knowledge of the menu (even telling me where the noodles from my salad were sourced from) and provided wonderful recommendations based on my food preferences. If you go there, you should ask for him!
Doc B's is located at 100 E Walton Street in the Gold Coast. Luckily, they are also opening up a spot in River North pretty soon at 55 E Grand Street.
Love always,
Erica