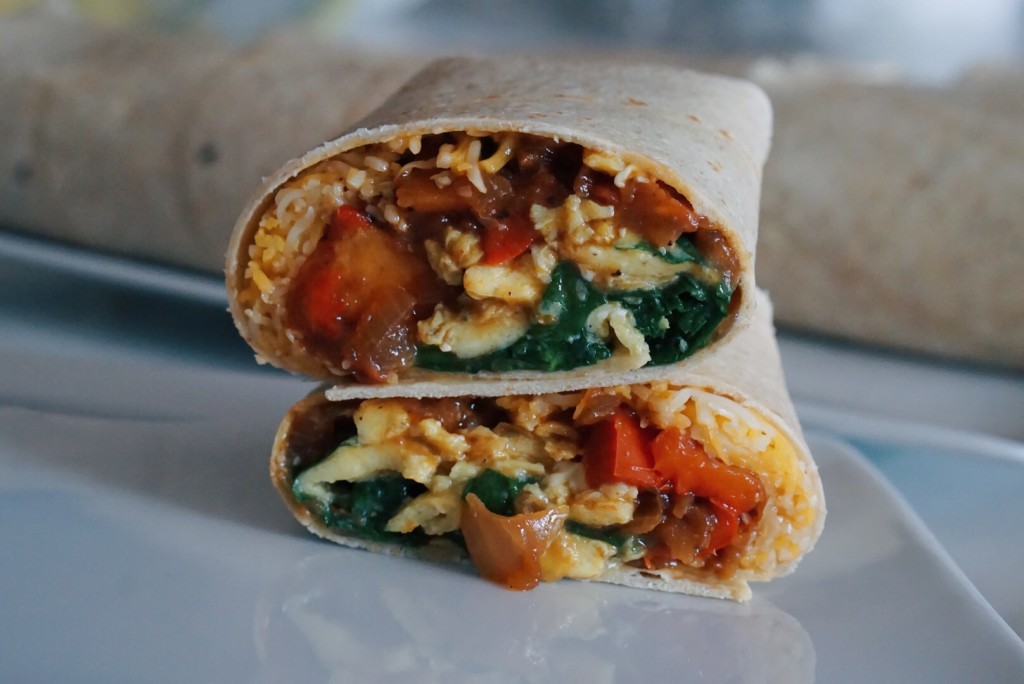 Since becoming a new Mom, my mornings have become extremely hectic. From the moment my daughter Elia opens her eyes at 6am, it is pure and utter chaos.
As a result, unfortunately, breakfast started to take a backseat to other things. It wasn't long into this whole, "Mom thing", that I realized a lack of a healthy, hearty breakfast, actually gave me less energy and made it much more difficult to get through the day. To be honest, it was even more stressful because I knew even if I did have a few minutes to make a quick bite to eat, there is no way I'd have time to get to the grocery store to buy what I needed all the time.
I knew I needed a solution and I needed one fast. I wanted a quick an easy breakfast with a lot of protein and vegetables that would actually excite me and could be made and frozen ahead of time. Then, I thought about making a breakfast burrito! Genius, right?
So the recipe idea solved one problem, but now I needed to figure out how I was going to get the ingredients! Then I remembered PeaPod and I knew I had my solution! This grocery service lets me shop right from my computer or mobile device (while Elia is sleeping) and have the groceries delivered whenever I need them. They honestly have EVERYTHING you need (including everything you need to make this recipe.)
I also love that Peapod works to make the community better. For example, during the month of April, they will be donating 10% of the sales for the Zen of Slow Cooking Meal Kits up to $5,000 to Have Dreams. The Zen of Slow Cooking Meal Kits are available for Chicago shoppers and include Carolina Pulled Pork by Zen of Slow Cooking and Chicken Tortilla Soup of Zen of Slow Cooking.
Now, onto breakfast! This recipe will make 12 burritos…
What You'll Need
1 onion, diced
1 bell pepper, diced
2 garlic cloves, minced
1 large sweet potato, peeled and cut into small cubes
1/2 cup of your favorite salsa
2 tomatoes, diced
Dozen eggs
1.5 cups of spinach
1/2 cup Peapod Four Cheese Mexican Blend
1 package Peapod Hot or Sweet Sausage (omit if you want it to be vegetarian)
Low carb wraps (large size)
Olive Oil
Salt
Pepper
Tin Foil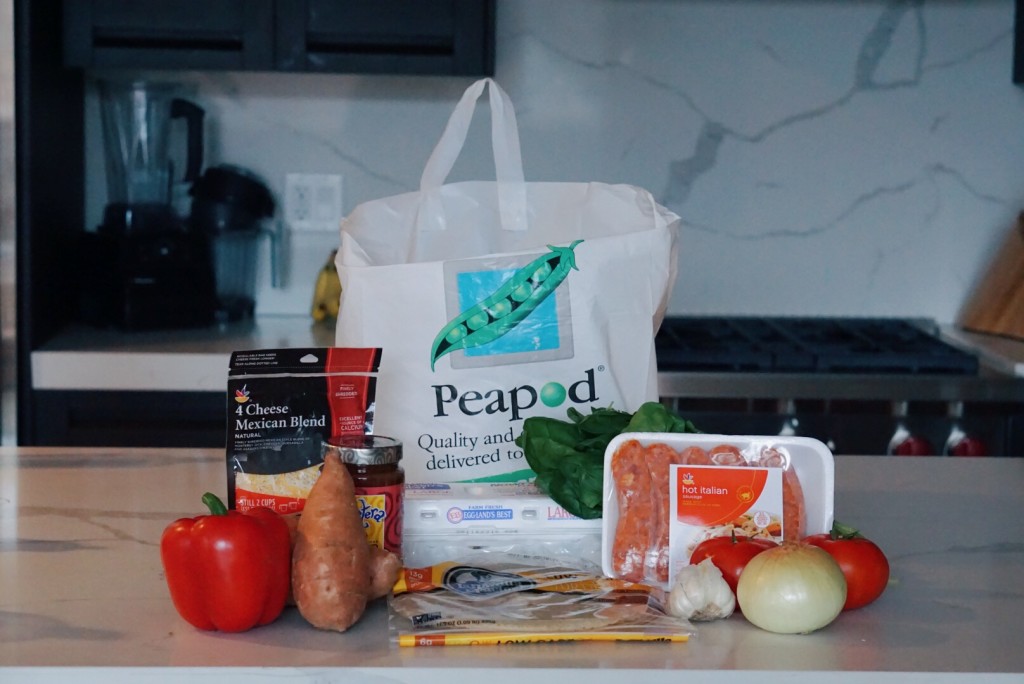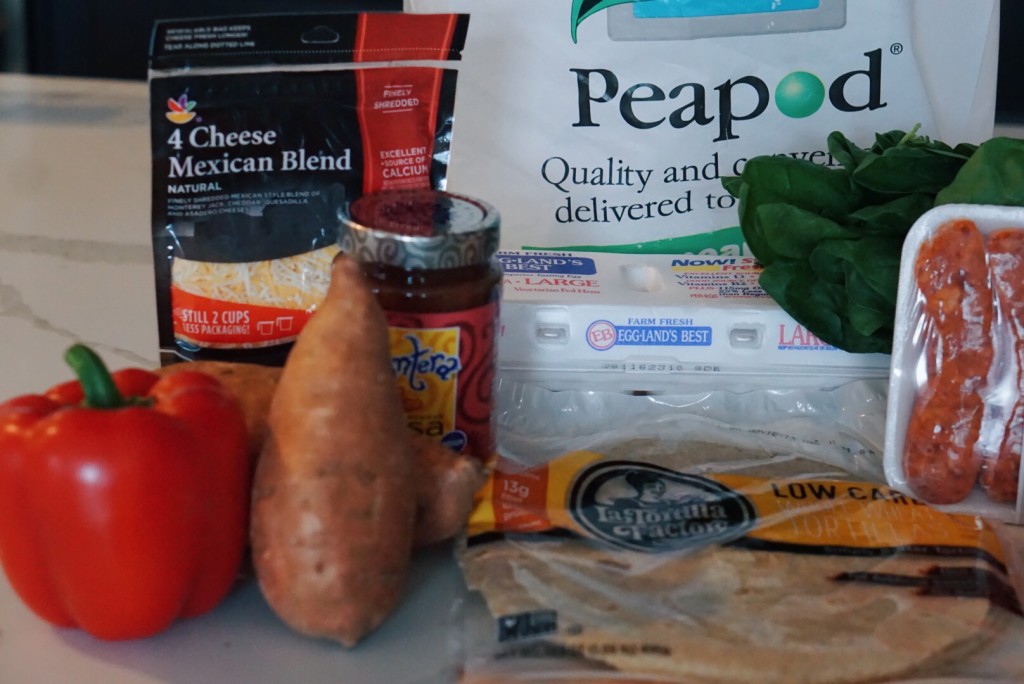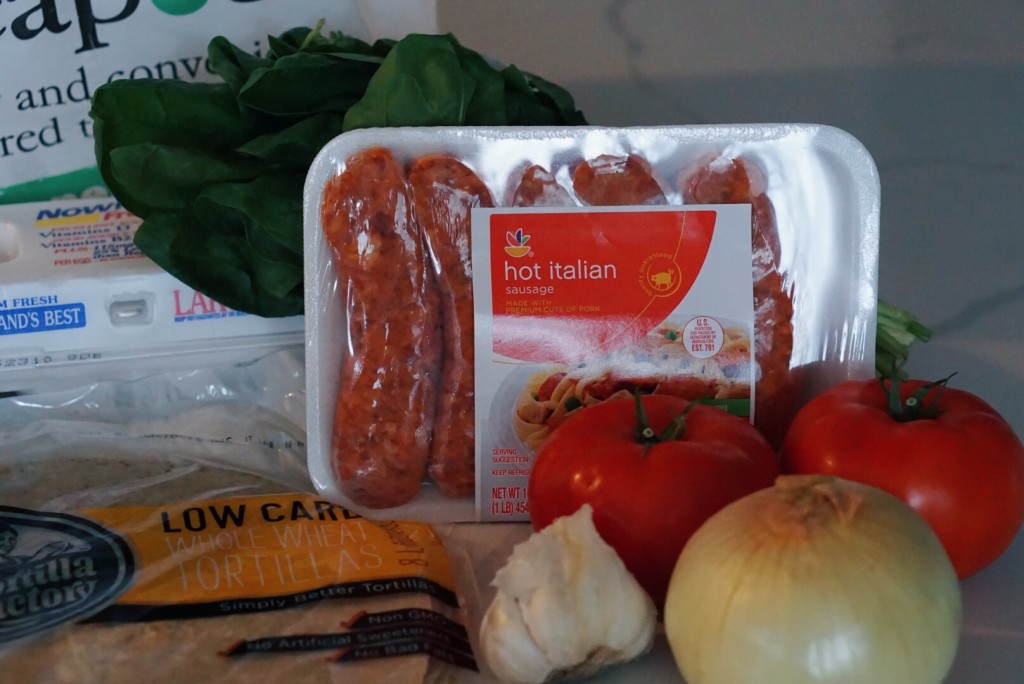 What You'll Do
1) Make the vegetable filling! Heat a tablespoon of olive oil in large skillet over medium high heat. Once hot, add your diced onions and peppers and cook until it starts to soften (about 5 minutes).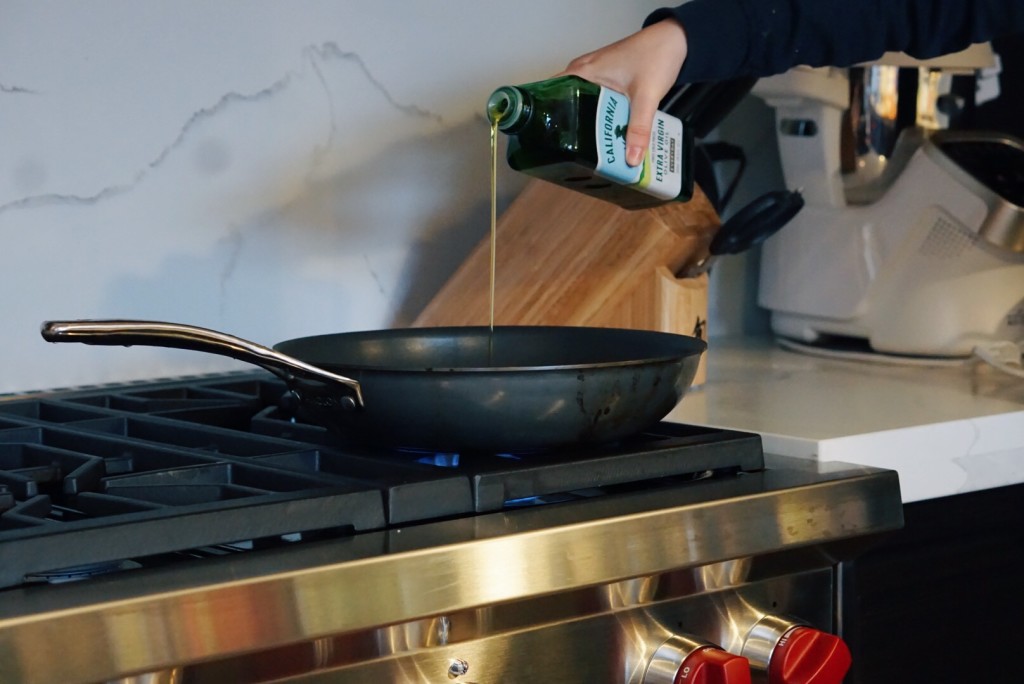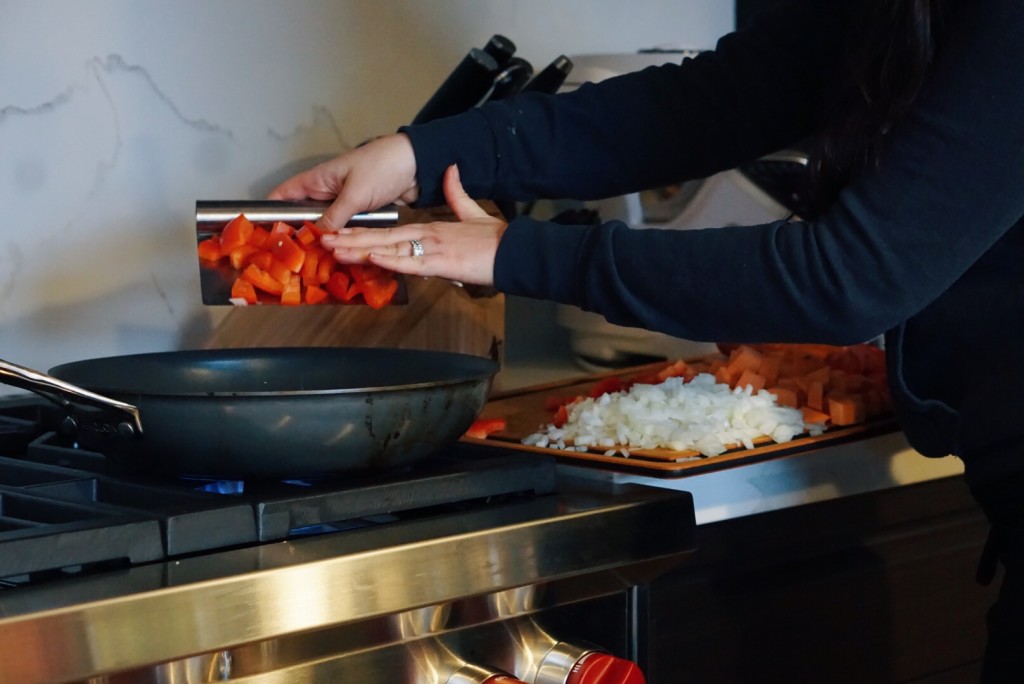 Once soft, add in minced garlic, sweet potatoes, tomatoes and favorite salsa. Stir to combine all the ingredients, reduce heat to medium low. Cover with tight fitting lid and cook until the sweet potato is tender (about 15 minutes).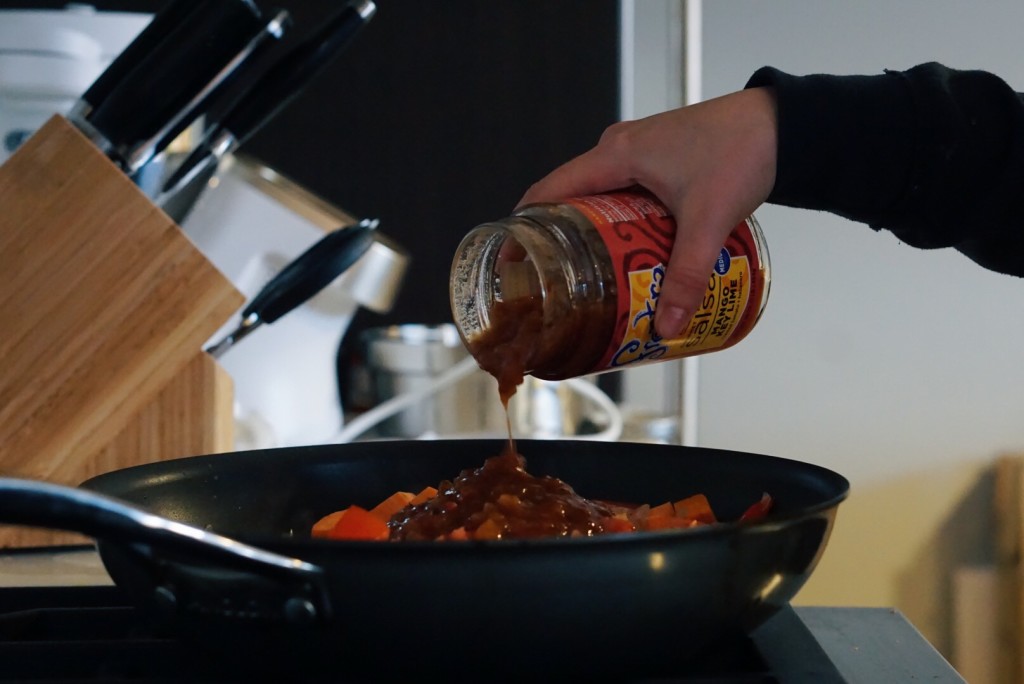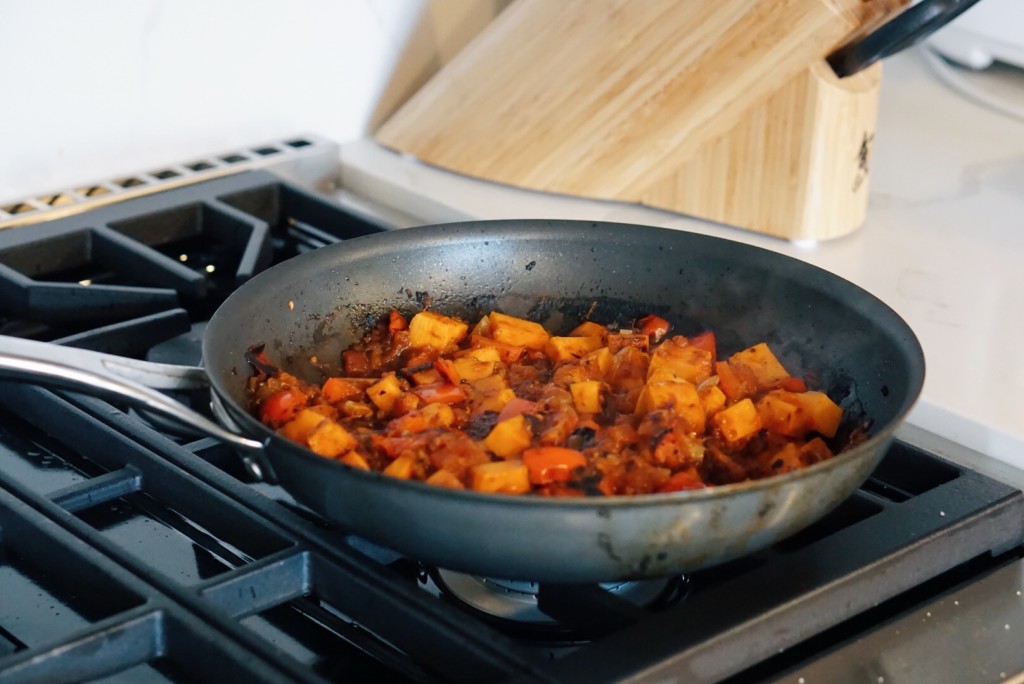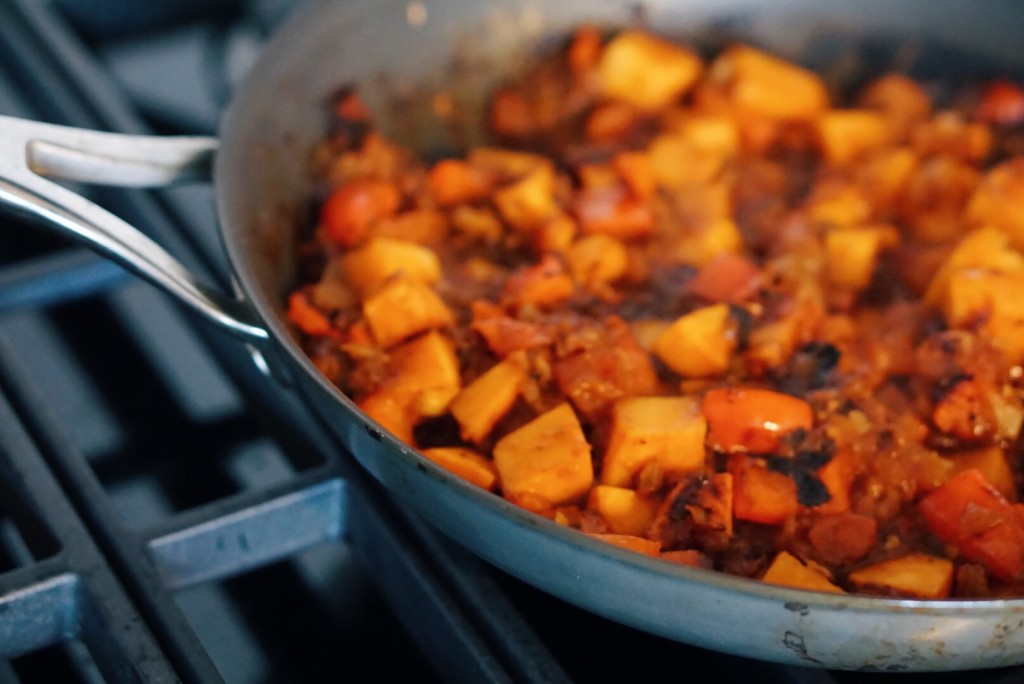 Uncover and make a well (a hole) in the center of the pan with your vegetables along the edges. Add a little drizzle of olive oil and cook your sausage. As you start to break it up, incorporate it in with the vegetables.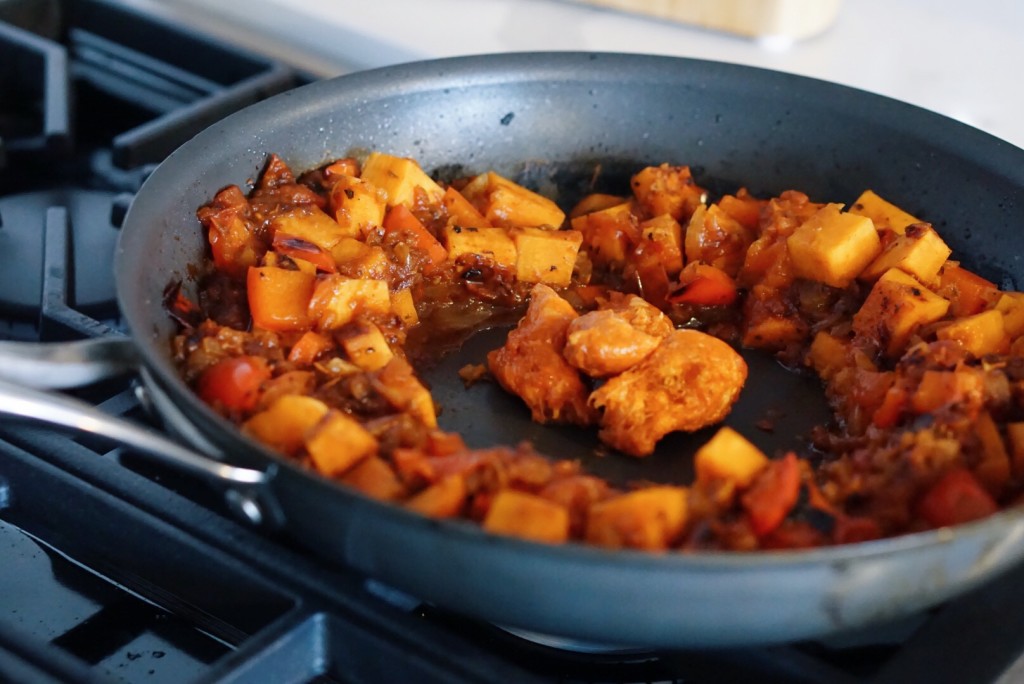 Once this is cooked, transfer to a bowl and set aside.
2) Make your eggs! In a large bowl, crack all your eggs and whisk them together with a pinch of salt and pepper. In the same skillet you just cooked your veggies/sausage in, add a little more olive oil and heat over low heat. Pour the eggs into the skillet and top with spinach. Stir until eggs are just about cooked through.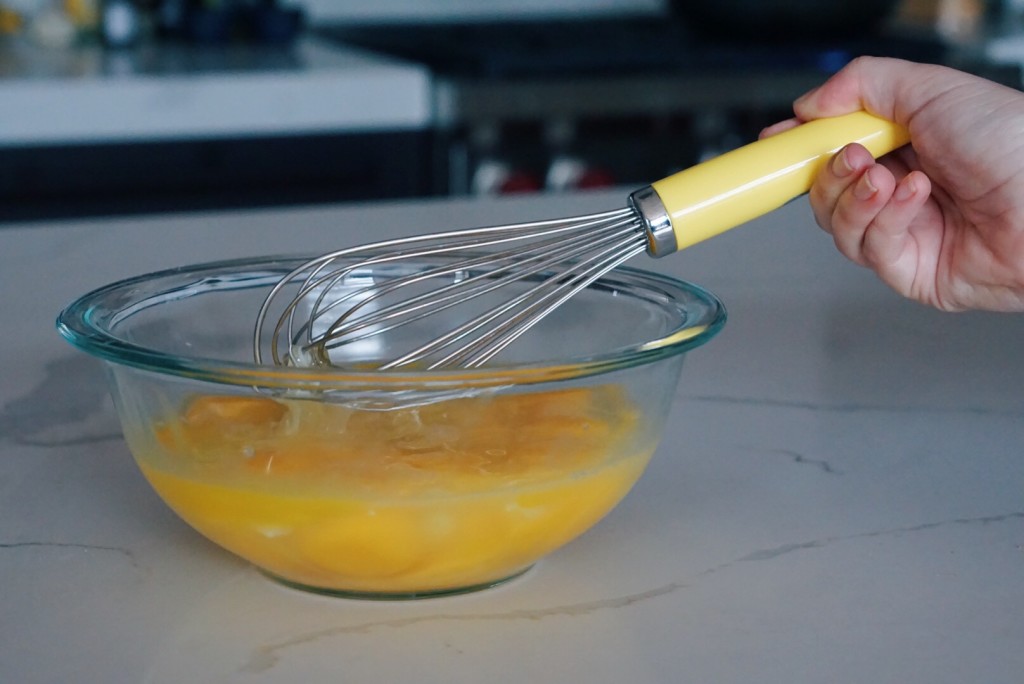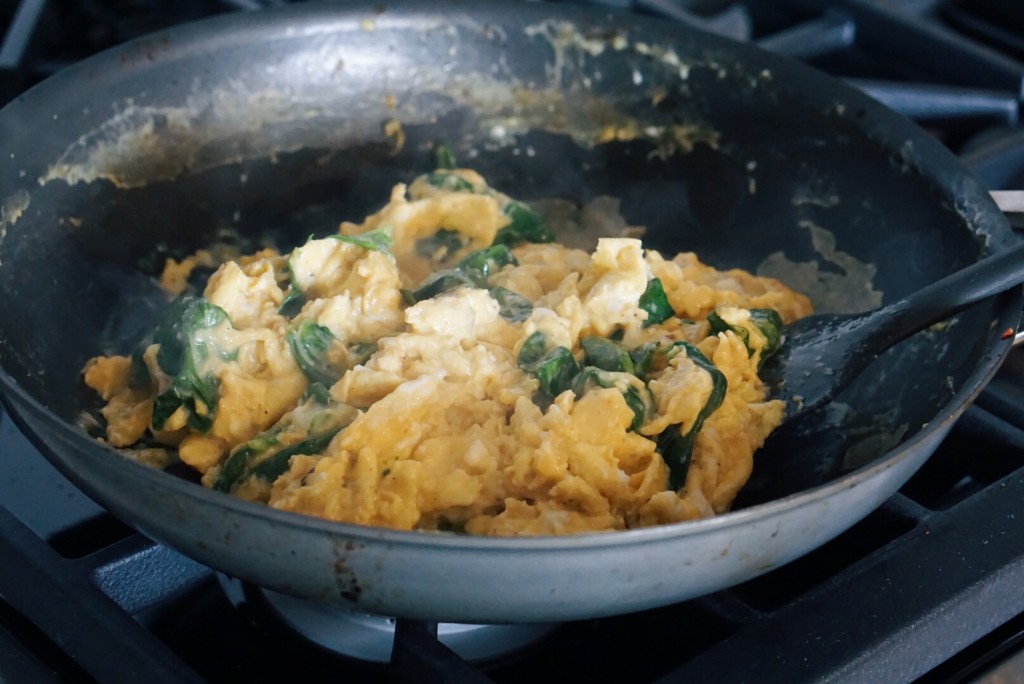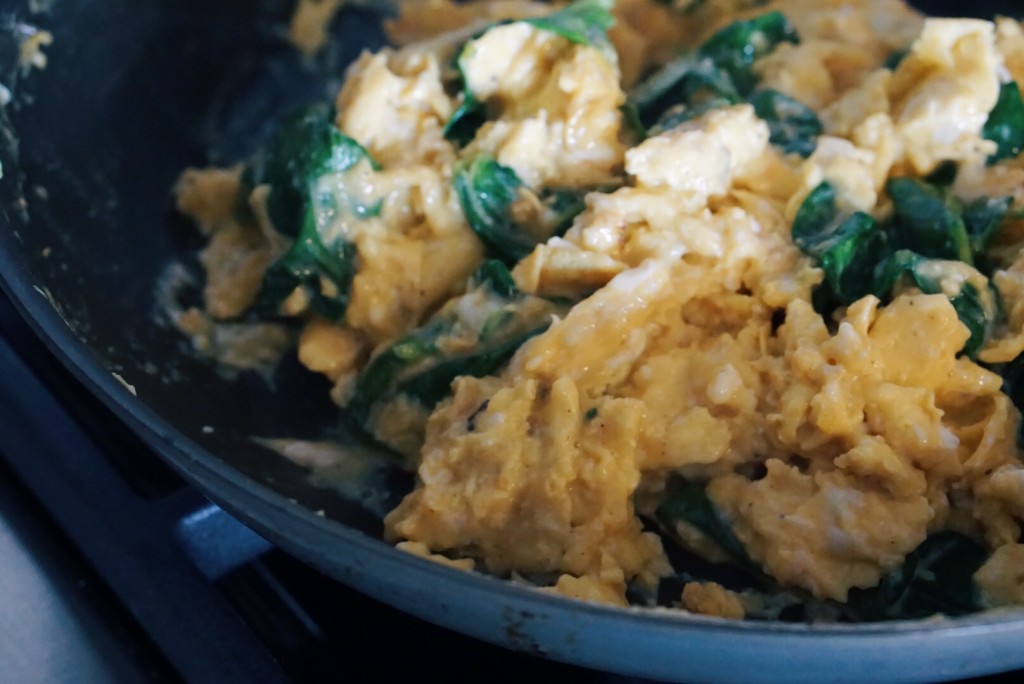 Transfer the eggs to a separate bowl and set aside.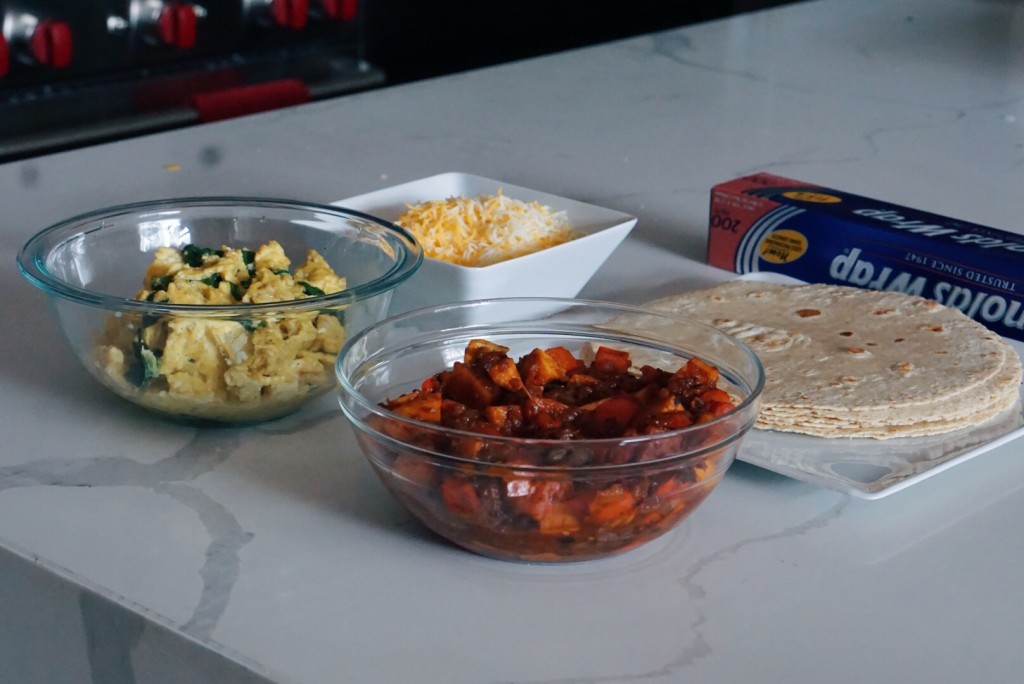 3) Assemble & roll your burritos! In order to make sure these burritos are ready to be frozen, make sure all ingredients are room temperature before you start rolling them. Once cooled, lay out a tortilla on a piece of tin foil, add cheese first (very important), then the sweet potato/sausage mixture and finally the eggs (see rolling instructions below.) Make sure to do it in this order or your burritos will be soggy.
Rolling Directions
Roll them up nice and tight! First, make sure your mixture is slightly off center below the center of the tortilla. Also, do not overfill!
Then, fold the sides in so they are just about touching.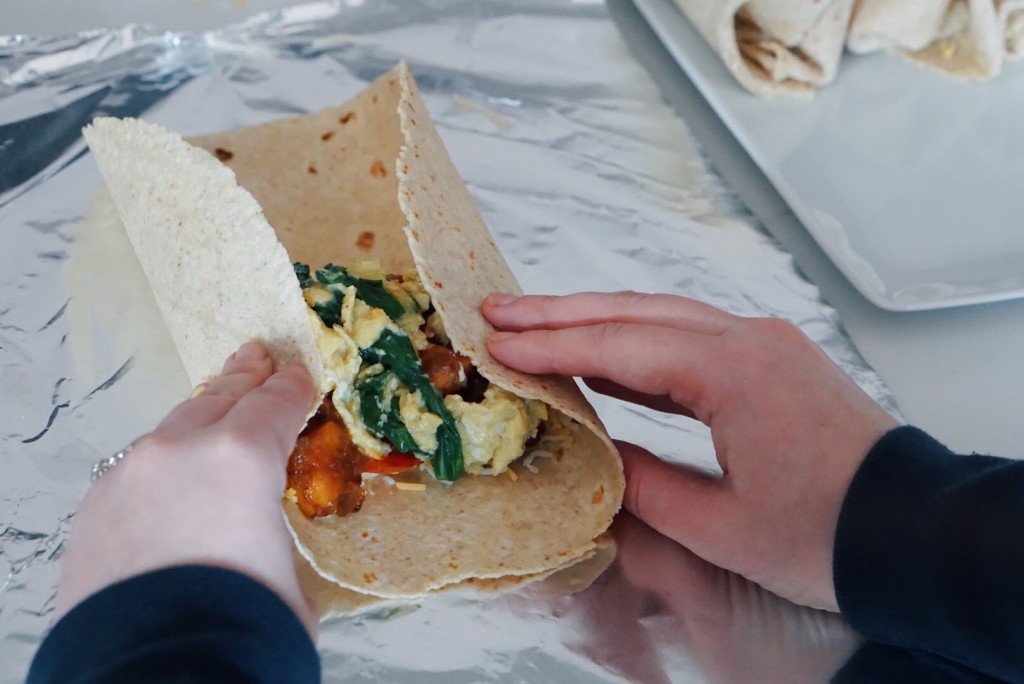 With the sides folded in, carefully bring up the bottom of the tortilla and tuck in the ends while bringing it up.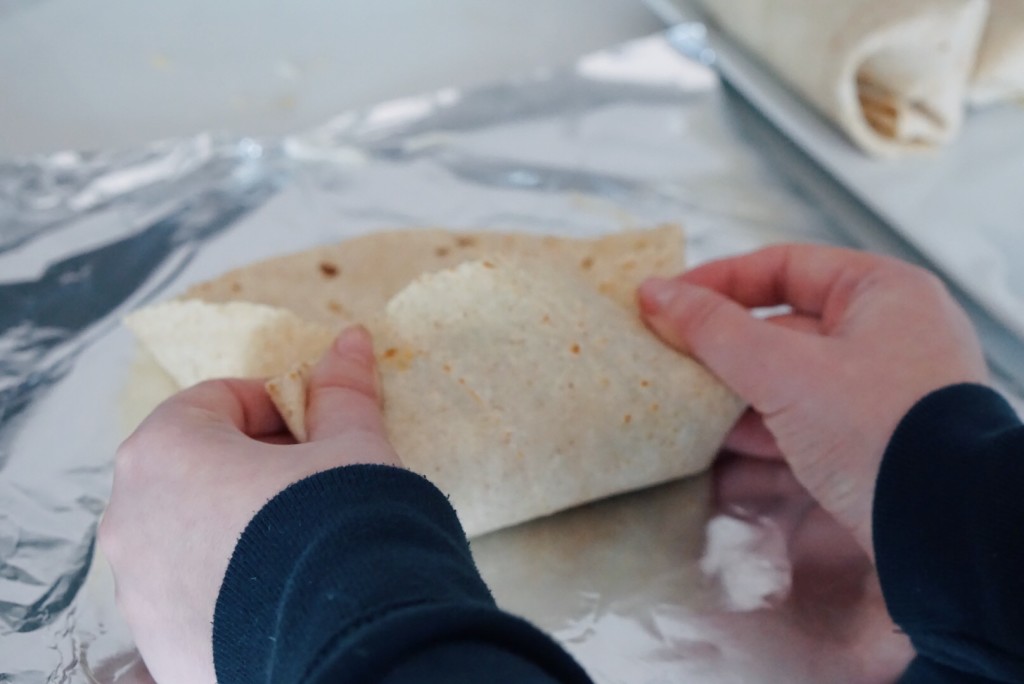 Pull tightly and roll!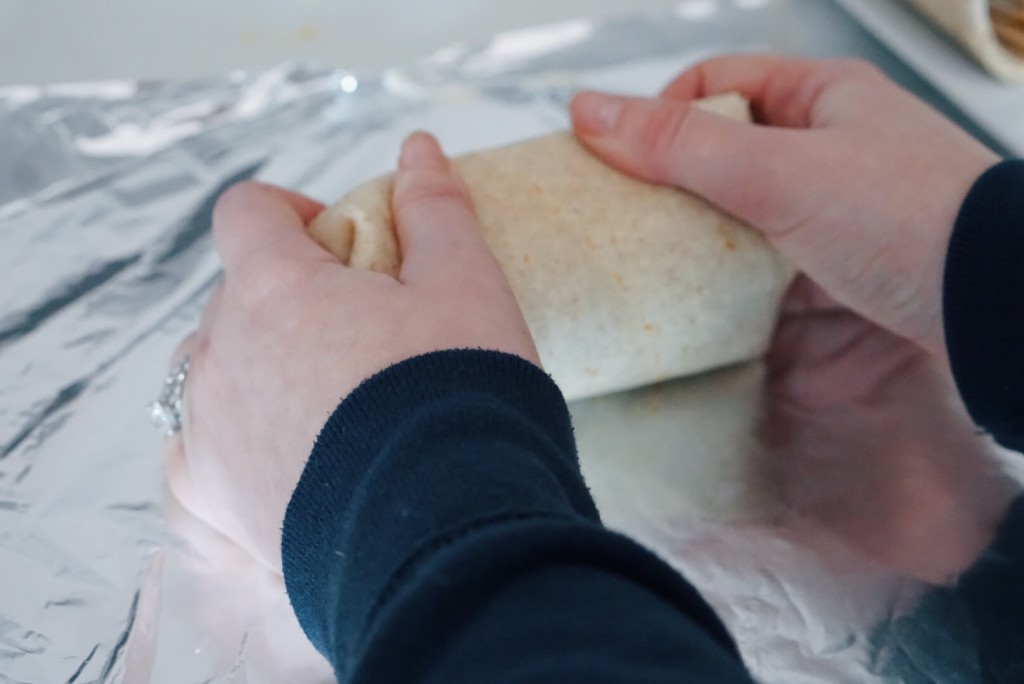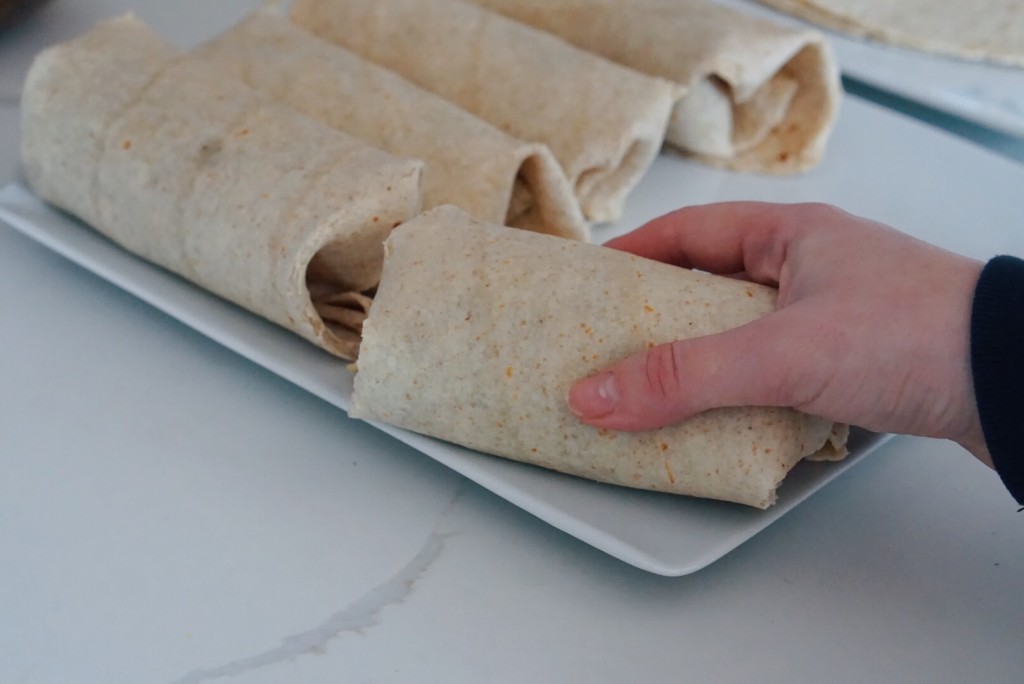 5) Wrap and freeze! Wrap the burrito up nice and tight in the tin foil. Lay them flat in a gallon-sized zip-lock freezer bag. You can fit about 3 per bag.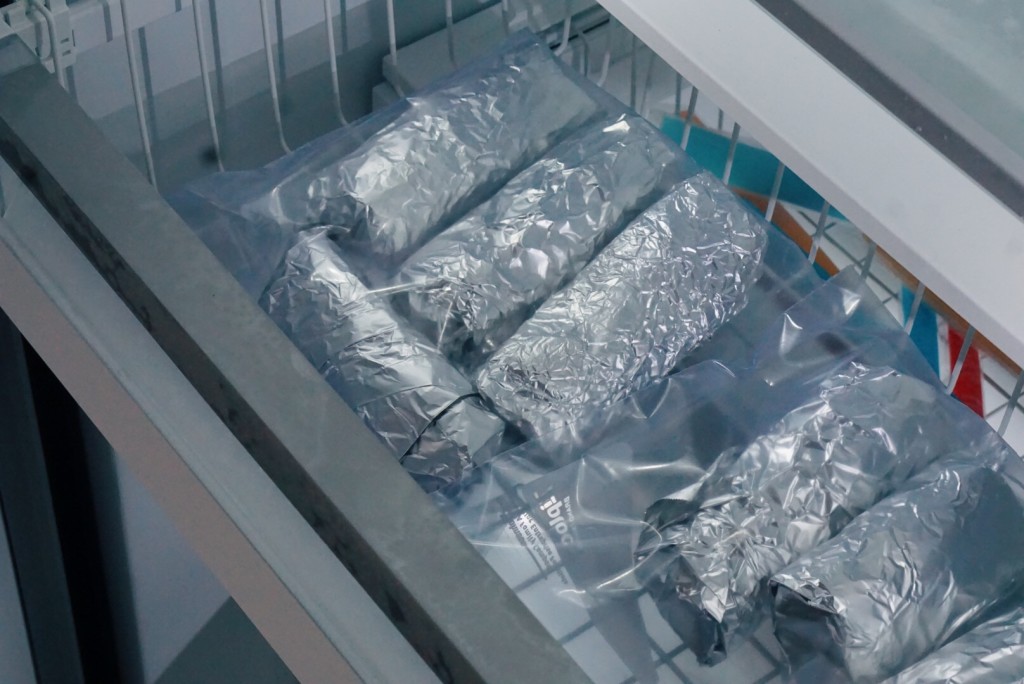 6) When you're ready to eat, Unwrap the burrito and microwave on high for a minute or so, until warmed through. Or, if you have a little more time, heat in a toaster oven at at 325°F for about 15 minutes. You can store these beauties in the freezer for up to 3 months, so you should totally make a double batch!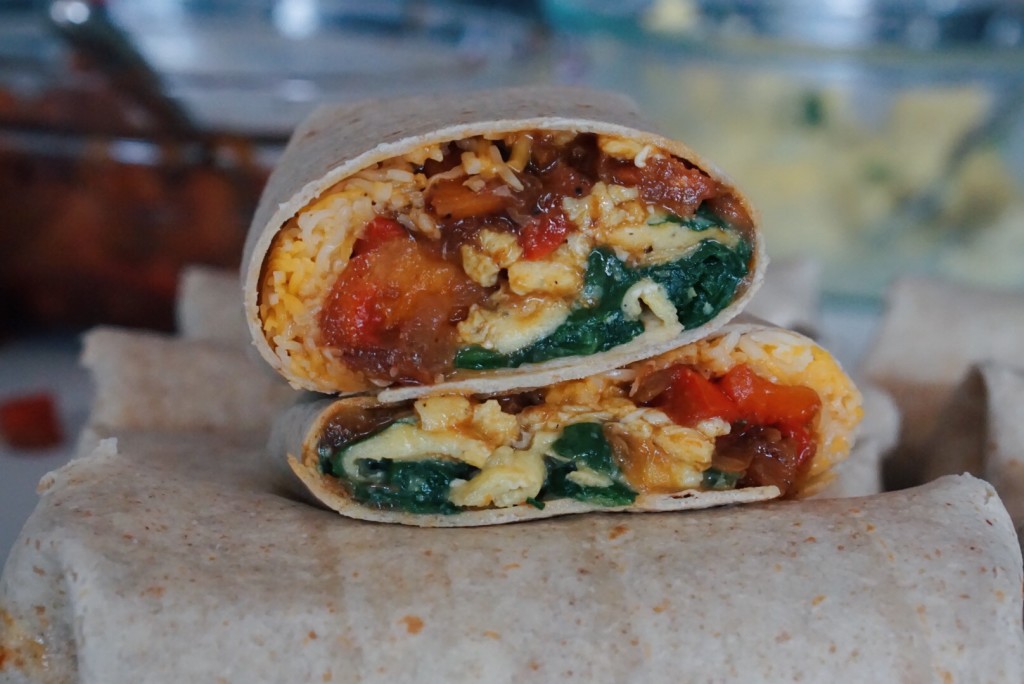 Now that you have this new recipe in your repertoire, there are no more excuses to miss breakfast! You can also find the recipe here on Peapod's website.
Love always,
Erica