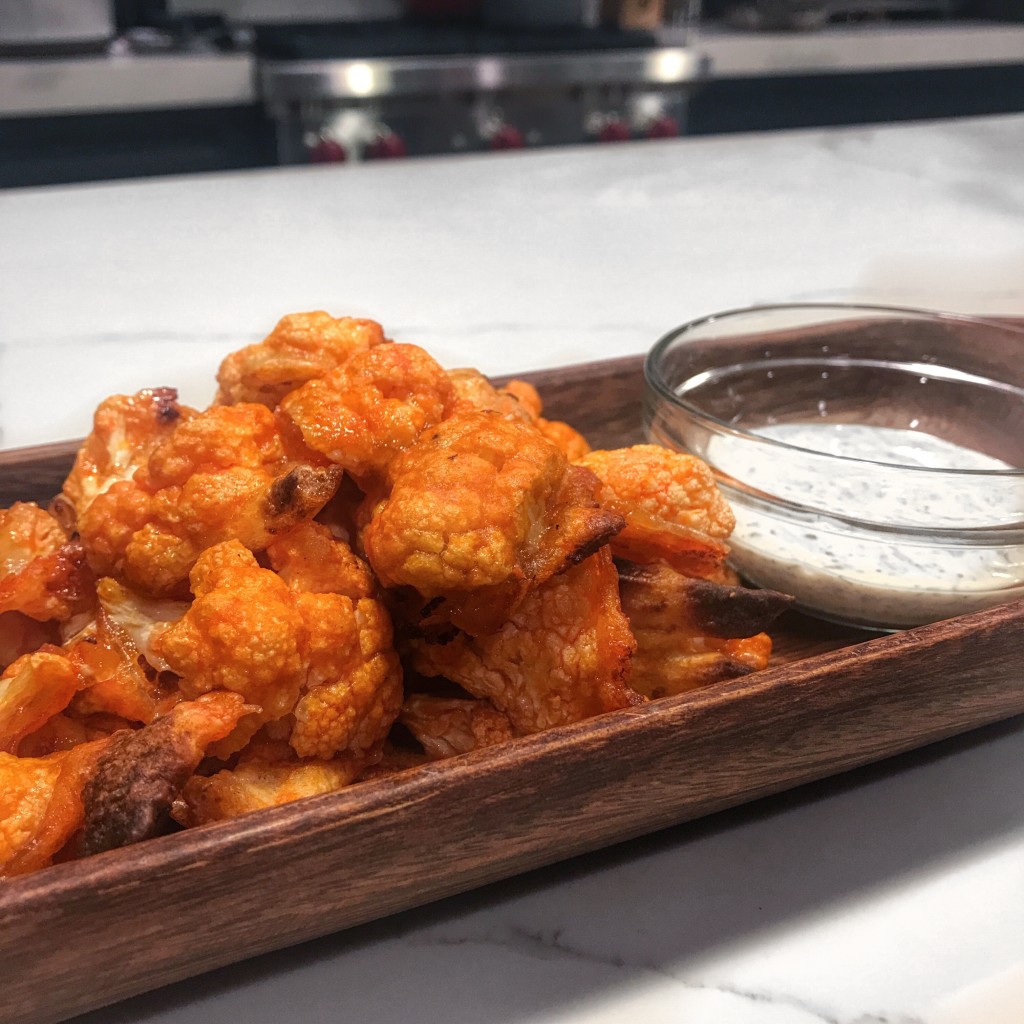 Whole 30 can be REALLY hard. It's literally my mission to create recipes that help make the hard times just a little bit easier. Last night while watching football with the hubby, I was craving buffalo chicken wings and I knew that was a total no no. I've been seeing people make buffalo cauliflower for a while now, but every recipe I saw wasn't compliant with my diet! I decided to take a stab at it on my own and the result was freaking FABULOUS!
Here is the recipe…
What You'll Need
1 head of cauliflower, chopped up into small pieces
1 cup coconut milk (I used the canned one)
1/2 cup water
1 cup arrow root flour or cassava flour
1 teaspoon garlic powder
1 teaspoon onion powder
1 teaspoon paprika
1/2 teaspoon salt
1/2 teaspoon pepper
For the sauce
1/5 tablespoons of Ghee
1/2 cup Frank's Red Hot
What You'll Do
1) Preheat the oven to 450 degrees! Take a large baking sheet and line it with parchment paper and set aside.
2) In a large bowl, whisk together the flour, milk, water, garlic powder, onion powder, paprika, salt & pepper.
3) One by one, dredge each piece of cauliflower in the batter until it's really covered nicely and excess is removed.. Place on the baking sheet that you lined with parchment paper.
3) Bake for 12 minutes and flip. Bake another 5 minutes or until batter is totally dry and starting to brown on both sides.
4) While cauliflower is baking, make your sauce! In a sauce pan, mix your ghee and hot sauce together and simmer over low heat. Whisk well throughout.
5) Remove cauliflower from the oven and use a pair of tongs to dip each piece into the sauce. Place back on baking sheet and bake for an additional 10 minutes until totally crunchy!
I serve mine with a side of Tessemae's ranch to keep it 100% Whole 30 compliant! You MUST make this recipe.
Love always,
Erica