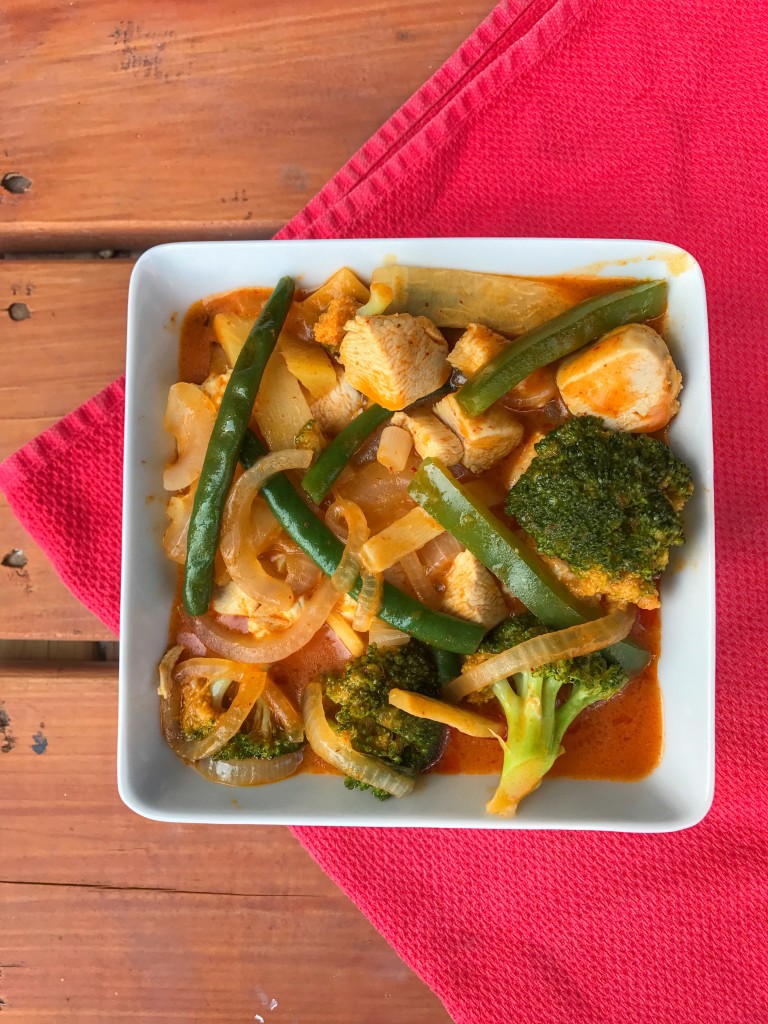 For those of you who have been on this Whole 30 journey with me, you know it can feel like a lot to tackle. With fall approaching, all I've been wanting is comfort food. This Red Chicken Curry warmed me right up and honestly, it's a recipe I'd use over and over again! It's quick, easy and it couldn't be more delicious.
What You'll Need
1 tablespoon ghee
1 tablespoon coconut oil
2 tablespoons red curry paste
1 can of coconut milk
1 tablespoon of coconut aminos
3 fresh basil leaves
1 small handful of mint
1 chicken breast, cubed
1 small head of broccoli, chopped up
1 bell pepper, sliced
1 onion, sliced
1 handful of green beans
1 cup of pineapple, diced
1 tablespoon of tapioca starch
1 handful of cashews
What You'll Do
1) Add ghee and coconut oil to a deep pan or pot over medium heat. Once melted add red curry paste and cook out until fragrant (about 3 minutes)
2) Deglaze the pan by pouring half the can of coconut milk and whisking until well combined. Let that simmer for another minute then add the rest of the coconut milk and the coconut aminos. Throw in the basil leaves and mint. Simmer for 3 minutes.
3) Add in chunks of the raw chicken, broccoli, green beans, bamboo shoots, bell pepper, onions and pineapple. Stir until all combined and cover. Let boil covered for 5 minutes.
4) In a small bowl, place the tapioca starch. Remove lid from boiling curry and add 2 tablespoons of the hot liquid to starch and whisk. Once well combined (no lumps), add it back into the pot and stir to combine. Let boil uncovered until sauce becomes glossy and thick.
5) A minute before you turn off the heat, add a handful cashews for a little crunch!
That's it!! 5 easy steps to creating a super clean and delicious curry!!!
Warmly,
Erica